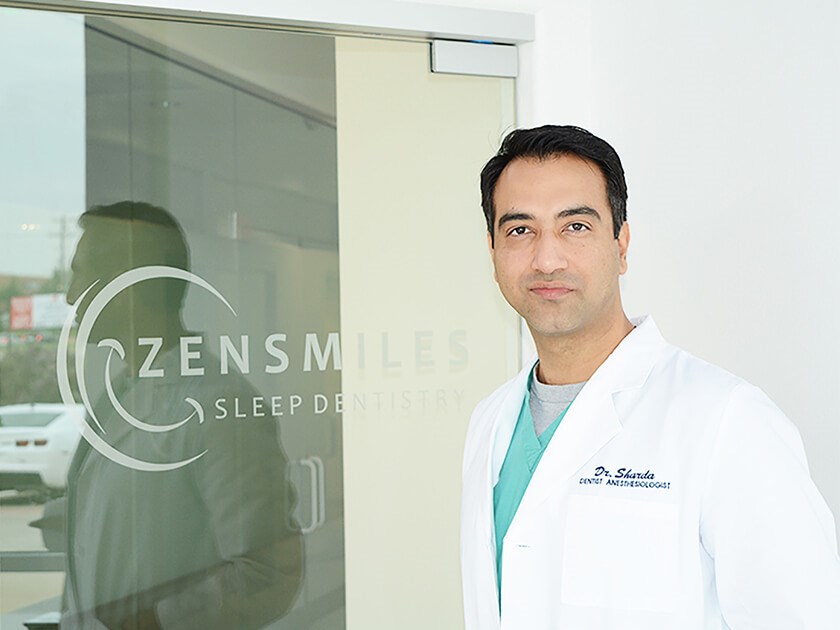 Dr. Shardha is the owner and founder of Zensmiles and the only Cosmetic Dentist Anesthesiologist in the State of Texas who is a member of the American Academy of Cosmetic Dentistry, Residency trained in Anesthesiology from a 3 year Medical track program and the Apex Mentor of The Boston University Henry S. Goldman School of Dental Medicine.
With over 20 years of experience in Dentistry Dr. Shardha has established himself as one of the Top Cosmetic Dentists in the Country delivering life like Aesthetic results by using cutting edge Cosmetic Techniques in Restorative Dentistry. His Clientele ranges from Fortune 500 CEO's and professional athletes to serial entrepreneurs and people from all walks of life who come to him to get their smiles restored.
Dr. Shardha believes life is better with a great smile and healthy teeth. He also knows there are too many people who are living below their potential because they are embarrassed about their smile and do not want to be social. They are not really enjoying their lives because they are in pain and are afraid of going to see the dentist. It doesn't have to be that way! His goal is to give their lives back. He does this by providing a safe, pain-free experience that alleviates their stress and allows them to smile again. This is his mission and HIS PASSION.

The care that Dr. Shardha provides is unique, as he is trained both in Dentistry and Anesthesiology. Dr. Shardha first received his dental degree from the University of Minnesota in Minneapolis, he then joined a successful private practice specializing in cosmetic dentistry and Implants in Washington state before advancing his education in Anesthesiology from the Stony Brook University Hospital at Stony Brook, New York.
Dr. Shardha is continuously pushing the boundaries of Aesthetic Dentistry, his Dento-Facial approach that has been beautifying smiles all over the Country is a holistic one which serves to marry the form and function of the face with shape, size and color of the teeth.
With an extensive background and specialized training in cosmetic dentistry and sedation dentistry, Dr. Shardha can use all levels of sedation while performing a wide range of highly advanced dental treatments, such as full-mouth reconstruction, smile makeover, laser teeth whitening, gum contouring, porcelain veneers, dental crowns and bridges, and dental implants. Dr. Shardha can save his patients time and money because they can receive care for nearly all of their dental needs under one roof, including orthodontics.
Patient Experiences
"Could not be happier with my smile, I get complements almost every day. It was the best investment of my life and I am loving it, I am so glad I got my cosmetic work done here and did not make the same mistake I made earlier when I went with the cheapest cosmetic dentist to get my veneers done which at the end looked fake and broke down within a few years. Thank you Dr. Sharda for stellar work and staff for putting up with my anxiety and schedule. I have been recommending you guys to all my family and co-workers."
J.P.
Google
"He is hands down the best cosmetic dentist in the metroplex! I've been treating with him for 4 years and it's always a pleasure to go. I love the great results and no long waits plus he's soo sweet and caring! Thank you doctor for years of great dental health."
K.M.
Google
"Came highly recommended and I can now see why. He is the go-to cosmetic dentist for the high flyers in my firm and I am in awe of my smile after getting done. A big thank you to Dr Sharda and his staff for the exceptional work. I have been telling my friends and family to get their treatments done as I am sure for someone with his talent and expertise won't be in network with insurance companies for long. But I will still be going to him that's for sure. Cheers"
M.M.
Google
"The Doctor no doubt is a master at cosmetic dental work. Was referred by a friend who had veneers done by Dr Sharda and she looked at least 10 years younger after the treatment, its unbelievable how your smile can do that. I had several "cheap" crowns replaced and they came out stunning. It is a very high end practice with all the latest tech, I am moving to California for work but will be coming here for my dental work even if I have to fly in just for that. Too good!"
J.M.
Google
"If you need a good trading platform which is 100% legit you can contact Mr Chris Crypto, he's 100% legit and trustworthy and withdrawal from his trade platform is very easy without any stress or extra commissions. Here are links to contact him below... WhatsApp: +1(213)568-6030 Email: [email protected]"
W.F.
Facebook
Related Posts