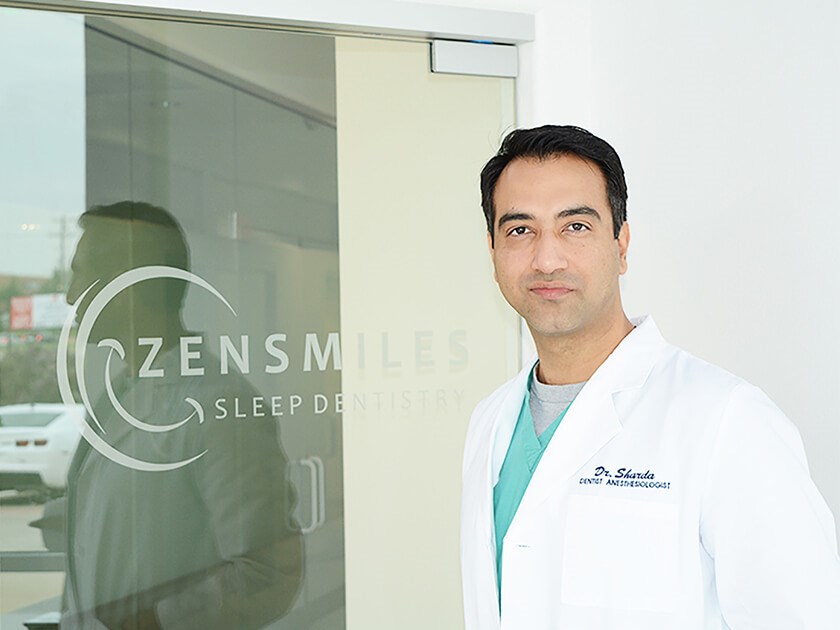 Dr. Shardha is the owner and founder of Zensmiles and the only Cosmetic Dentist Anesthesiologist in the State of Texas who is a member of the American Academy of Cosmetic Dentistry, Residency trained in Anesthesiology from a 3 year Medical track program and the Apex Mentor of The Boston University Henry S. Goldman School of Dental Medicine.
With over 20 years of experience in Dentistry Dr. Shardha has established himself as one of the Top Cosmetic Dentists in the Country delivering life like Aesthetic results by using cutting edge Cosmetic Techniques in Restorative Dentistry. His Clientele ranges from Fortune 500 CEO's and professional athletes to serial entrepreneurs and people from all walks of life who come to him to get their smiles restored.
Dr. Shardha believes life is better with a great smile and healthy teeth. He also knows there are too many people who are living below their potential because they are embarrassed about their smile and do not want to be social. They are not really enjoying their lives because they are in pain and are afraid of going to see the dentist. It doesn't have to be that way! His goal is to give their lives back. He does this by providing a safe, pain-free experience that alleviates their stress and allows them to smile again. This is his mission and HIS PASSION.

The care that Dr. Shardha provides is unique, as he is trained both in Dentistry and Anesthesiology. Dr. Shardha first received his dental degree from the University of Minnesota in Minneapolis, he then joined a successful private practice specializing in cosmetic dentistry and Implants in Washington state before advancing his education in Anesthesiology from the Stony Brook University Hospital at Stony Brook, New York.
Dr. Shardha is continuously pushing the boundaries of Aesthetic Dentistry, his Dento-Facial approach that has been beautifying smiles all over the Country is a holistic one which serves to marry the form and function of the face with shape, size and color of the teeth.
With an extensive background and specialized training in cosmetic dentistry and sedation dentistry, Dr. Shardha can use all levels of sedation while performing a wide range of highly advanced dental treatments, such as full-mouth reconstruction, smile makeover, laser teeth whitening, gum contouring, porcelain veneers, dental crowns and bridges, and dental implants. Dr. Shardha can save his patients time and money because they can receive care for nearly all of their dental needs under one roof, including orthodontics.
Patient Experiences
"This was by far the BEST dental experience EVER!  I made no secret I was petrified of a dentist.  The last dentist made a temporary crown and used permanent cement and the crown finally broke... 3 years later!!  I had teeth pulled when I was a child and the dentist used NO anesthetic because he didn't think it was necessary!?!  I could go on.  They made me feel comfortable and less anxious about putting in another crown with IV sleep.  IT WAS AMAZING!!!  He prescribed pain medication after the procedure and I didn't even need to fill it!!!  Best dentist in the world!!"
M.G.
Yelp
"Want to get knocked out cold? Okay maybe that's a bit extreme. But Dr. Mohit Sharda is a pro nonetheless. You go in and assess the dental work you need, choose your level of sedation to ease your fears and wake up with having all the work done. It's like an oral spa, literally."
M.A.
Yelp
"I have had many bad dental experiences and haven't been to the dentist in many years. My front teeth were very weak and starting to chip. A friend of mine highly recommended Dr Shardo at Zen Smiles. I was always taking the pictures of our grandkids and I almost never had my picture taken because I wouldn't smile.   I finally worked up the courage to see Dr Shardo and he is amazing. Also Karen at the front desk is the sweetest person you will ever meet. I had 6 crowns on the top and they look fantastic. I smile every day I love my new teeth. Darlene B Wylie, Tx"
C.B.
Yelp
"1/19/2028 ZENSMILES IS AMAZING,TRUST THE REVIEWS!! Truth be known I HATE going to  the dentist....from the smells to the sound of drills going to even simple X-rays.....I have had several tooth related problems in past from cavities, crowns, root canals, to implants on 2 teeth ...finally mentally I ended up w a phobia of the dentist..... until I met the team st ZENSMILES FRISCO!!!! Outstanding, compassionate, knowledgeable and for the very first time I wasn't frightened to see Dr Sharda and his amazing team this morning for surgery... From Karen at the front who comforted me last Saturday because I was in tears, to Amber who does X-rays and works beside the Dr, to Dr Sharda himself ... I cannot thank each one of them enough for finally helping let go of my fears of dentistry ...Dr Mohit Sharda is by far the best dentist I have ever seen in my 42 years of life...we all have a calling in life and dentistry is clearly his passion... thank you so very much ZENSMILES for what you do each and every day :) Sincerely, Christy Herndon"
C.H.
Yelp
"Just to reiterate what others have said, excellent care here.  Quick, professional and very reassuring.  I had some rather significant work done, and Dr. Sharda and his staff did an excellent job.  Once I was in the chair, they were efficient and quick in easing my nervousness ( i.e. knocking me out ) and did excellent work.  Highly recommended."
C.S.
Yelp
Related Posts